I'm really excited to be participating in Project 30! What is that you ask?
It's a great idea for a great cause. It's
Samantha's (of The Life and Times of the Smith Family)
goal to collect 30 blankets for
Project Linus
, a charity that gives handmade blankets to seriously ill children. While I haven't had experience with this charity, I know how special it is for someone who is hospitalized to receive a handmade blanket.
Go here and read about it! Hopefully you will decide to join in with me!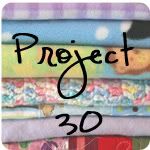 This is the start of my blanket. I decided on crochet because I can do that super easy (and quick). Samantha hosted a Make-A-Blanket Day/Weekend, and although I am way too far away, I decided to join in. Well sort of. The only thing I was able to accomplish on Sunday was the realization that none of the patterns I had were going to work. Even though I gauged a couple of different ones, the weight was just too big. I decided to do what I knew best, a giant Granny Square.
This is what I was able to accomplish yesterday in a couple of hours through the day. I figured I had to make up for the weekend. This is also one skein. I was hoping that I could make it through another one today, but was only able to add a couple of rows. Even though it looks like it in the picture, the blanket doesn't really look like it points toward the middle. I really excited about how it's turning out. I decided to go with cotton after reading the charities requirements (even though they do accept acrylic). I picked
Bernat's Cottontots in Wonder White
because it's clean, delicate, and super soft. Perfect for either a girl or boy. I know that I want to do a decorative edge, but haven't decided what yet. Maybe a little yellow or green. Or not.